Happy Healthy Mother's Day!
It's Mother's Day and the perfect opportunity to show how much your Mum means to you. Whatever her age, a gift that promotes health and wellbeing is not only a thoughtful idea; it's also a present that keeps on giving!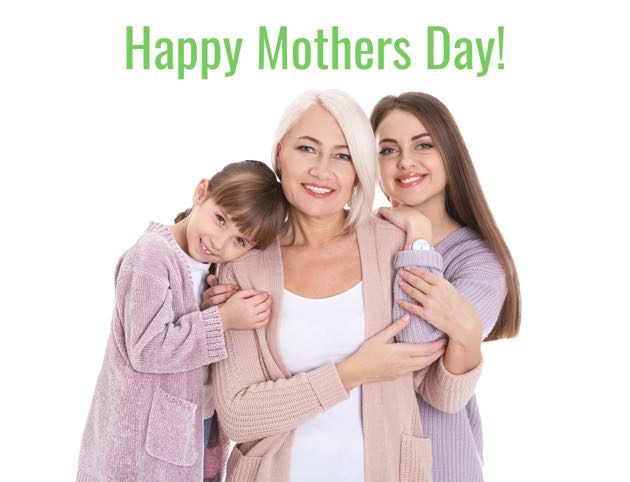 Gift Your Mum A Health Boost This Mother's Day
We are all living longer, which is great news, but health experts say that ageing well is really the secret to a long, happy life. At UK Juicers, we believe what you eat, and drink, play a huge role in this; so we have done the research for you and suggested some ideal gifts that will help Mum stay healthy!
Hormonal changes are one of the inevitable health challenges that ladies face, but sprouted beans and seeds have been proven to help. These natural medicinal wonders carry plant hormones that have been used by pharmaceutical companies to develop drugs for Hormone Replacement Therapy (HRT). A slightly lesser known fact is that you can completely bypass the chemical route by growing and eating them in the comfort of your own home. Former stand-up comedian Sally J Duffell has done a wealth of interesting research in this area and you can read it in her blog called 'Grow Your Own HRT'
We offer a wide range of bean and seed sprouters, including the Geo Sprouting Jar which is just £14.95 or the rather special 3-tier Geo Terracota Sprouter which is £24.95 and comes with some free organic seeds to get Mum off to a great start. Check out the full range of sprouters here. Whichever model you choose, a sprouter is a great present for Mum and there is a huge variety of seeds and beans to sprout; including, organic adzuki seeds, organic mung beans and broccoli sprouts. Check out the complete range of sprouting beans and seeds here.
Getting enough sleep is a crucial part of our overall health and welling being, with experts suggesting a minimum of 7-8 hours for the body to repair and restore itself. However, disturbed sleep patterns and insomnia play havoc in some people's lives. The good news is that rather than reaching for a packet of pills, juicing lettuce could be a natural way of creating an effective soporific drink. Lettuce' secret sleepy superpower comes from lactucarium, a sedative that affects the brain in a similar way to opium. To extract the maximum yield of juice from the leaves, it is best to use a low speed juicer such as the Sana EUJ-707 which will press the juice at a low temperature, keeping the minerals and vitamins intact and potent.
Calcium is an important mineral for all ages, building strong bones in early life and preventing deterioration in later life. It also performs other important functions such as regulating the heart, helping blood clots and stimulating hormone production.
Whilst most people think of dairy as the main source of calcium, dark greens like kale and broccoli are a rich source of this essential mineral too. Adding them to green juices is a convenient way to increase the intake of these cruciferous beauties. Again we recommend using a juicer like the Sana EUJ-707 for juicing dark leafy greens because it is a cold-press, horizontal format single auger juicer.
Hot flushes and night sweats can be a bane of life for women who are perimenopausal. Interestingly, experts have claimed that Sage helps reduce these uncomfortable symptoms. In 2011, Swiss researches proved this after conducting some thorough research amongst a group of women. Researchers found that Sage reduced hot flushes by 50% in four weeks and by 64% within eight weeks. The added bonus is Sage is easy to grow at home in a pot, so you can have a constant supply. We found this appetising Sweet Sage Juice recipe on juicing pro Joe Cross' website.
Almond milk is a delicious and low-calorie alternative to cow's milk that is also rich in Vitamin E, free of cholesterol, saturated fat and lactose. Vitamin E is a renowned skin superstar, helping to keep the complexion bright, and the epidermis moisturised. While nut milks have grown in popularity, and are readily available from most supermarkets, read the labels closely because some have additives such as sugar and xantham gum for thickening!

Really, there's only one way to know exactly what is going into Almond milk – make it at home using a juicer! It is a straightforward process that involves pre-soaking the almonds, adding water and then running the mix through a vertical slow juicer like the award winning Kuvings EVO820 with the juice cap closed for a few minutes until smooth.
Hopefully this has given you some ideas for Mother's Day this year, but there's lots more inspiration available from all of our category pages.
---