The Sana 868 Cold Press Juicer – The Epitome Of Luxury Juicing

Introduction
Looking for the perfect combination of elegance, premium features and optimised performance in your next juicer? Look no further than the Sana 868 Juicer. Crafted with meticulous attention to detail, this juicer sets a new standard of sophistication. The fluted matt black or gloss red profiles of the minimalist motor cover design exudes an understated beauty that will enhance your kitchen aesthetic, while encompassing the show-stopping power and precision of the state of the art juicing engineering within.
Who Are Sana Products?
European health brand Sana develops and commissions premium juicer designs with the two best factories in the world, in South Korea. We've spoken before about how far short the Chinese juicer factories still fall, both in quality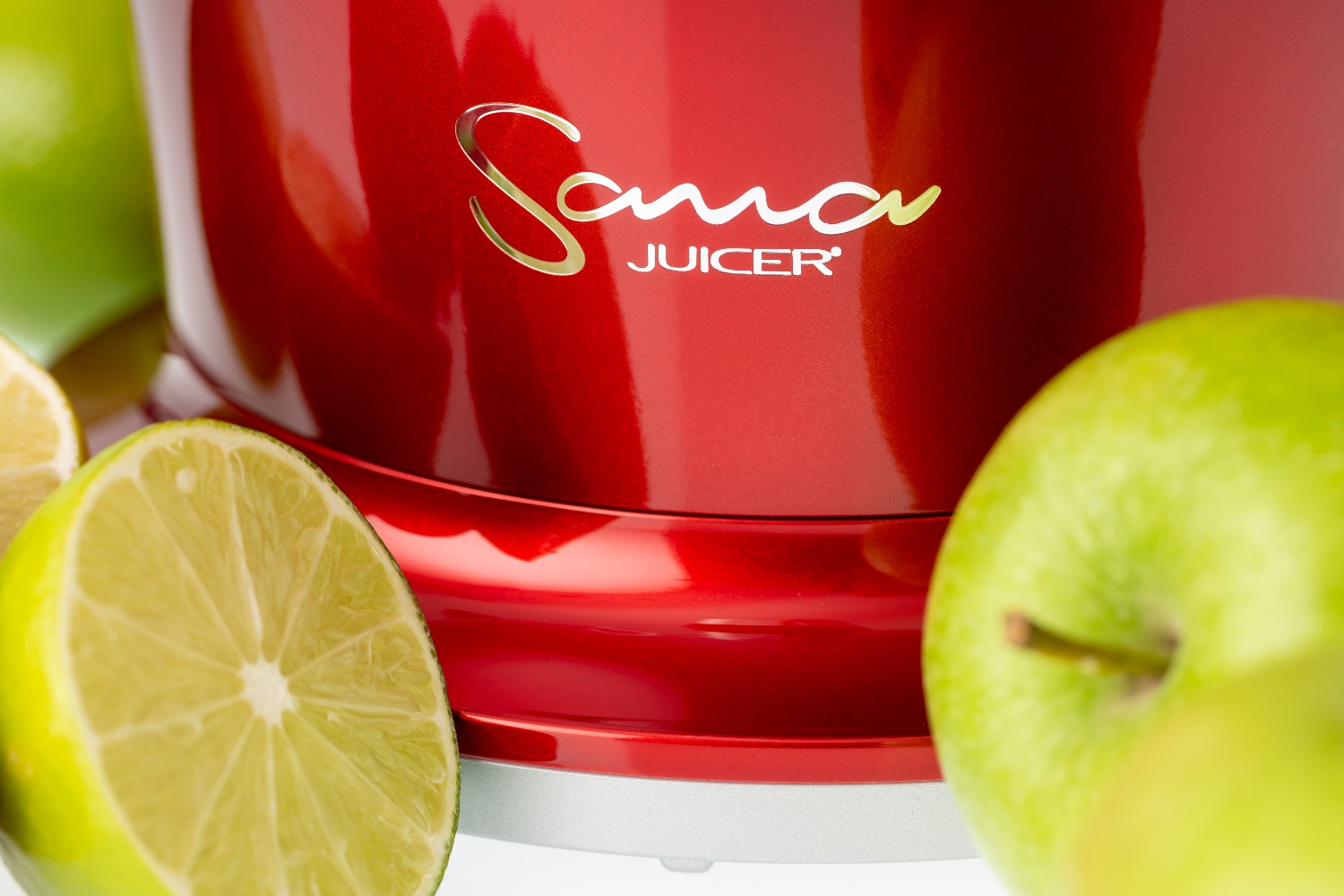 and performance, so if you are looking for the best juice yield, you'll have to pick a model from either of the two factories where all the UK Juicers premium offerings originate from. No prizes for guessing which other brand comes from the same factory where Sana developed their stunning 868 juicer (*cough* rhymes with groovings).
Premium Performance – Extracting Nutrient Rich Juice To Perfection
So how have they managed to set the Sana 868 Wide Feed Cold Press Juicer apart from the competition? The first point to examine for juicing enthusiasts like us is juice yield – or bang for your bucks. The 868 delivers in spades. It sits alongside our other top performers, with the latest juicing technology providing unbeatable performance. If you do find a similar juicer with better performance, we'll eat our pants. The expertly crafted juicing auger is designed to crush and cold press every last drop of nutrient dense juice from your ingredients with maximum efficiency, for your peace of mind.
Wide Feed Chute Convenience
Whether it's whole apples or celery sticks you are juicing, the extra wide dual feed flip gate lid of the Sana 868 has you covered, minimising chopping and maximising the convenience of prepping your ingredients before you juice. Whole apples simply drop into the juicing mechanism through the flip lid, long ingredients like carrots and celery perfectly self feed through the smaller central feed. Soft or hard ingredients are processed with equal efficiency. Unlike some juicers, the Sana 868 does them all.
Unparalleled Accessories To Refine The Juicing Experience
The other head above the crowd distinction offered by this superb piece of health enhancing kit is discovered when unboxing. The Sana 868 Juicer takes pride in its top-notch accessories, designed to provide a comprehensive and rewarding juicing experience. And accessories that are usually bought separately come as standard:
Polished Stainless Pulp Catcher – The juicing process generates pulp as a natural byproduct, and the Sana 868 takes care of it in style. The juicer features a beautiful polished stainless pulp catcher that not only efficiently collects pulp but also adds a touch of luxury to the overall juicing experience. Easy to clean and maintain, it's a functional accessory that perfectly complements the juicer's sleek design
Borosilicate Glass Juice Collecting Jar – Say goodbye to plastic containers and embrace the health-conscious choice of a gorgeous borosilicate glass juice collecting jar. This premium glass preserves the freshness and taste of your juices while minimising environmental impact. Your juices will stay as refreshing as the moment they were juiced. As a bonus for the enthusiast who likes a completely pulp free juice, there's even a fitted sieve tray for the glass jar
Everything Comes As Standard – when you consider the cost of the other included accessories that sit alongside the premium upgraded pulp and juice collectors, the luxurious ethos of the Sana 868 doesn't look as expensive as many competitors. Fine, coarse and smoothie texture juicing screens are all included as standard. So is the 'sorbet screen' which converts your Sana 868 into an ice cream maker, so you can instantly turn frozen fruit into fruit sorbets and ice creams. Many competing juicers offer the additional screens and sorbet maker as optional extras, so you pay a premium for these. Sana includes them right out of the box.
The Ultimate Investment In Stylish Healthy Living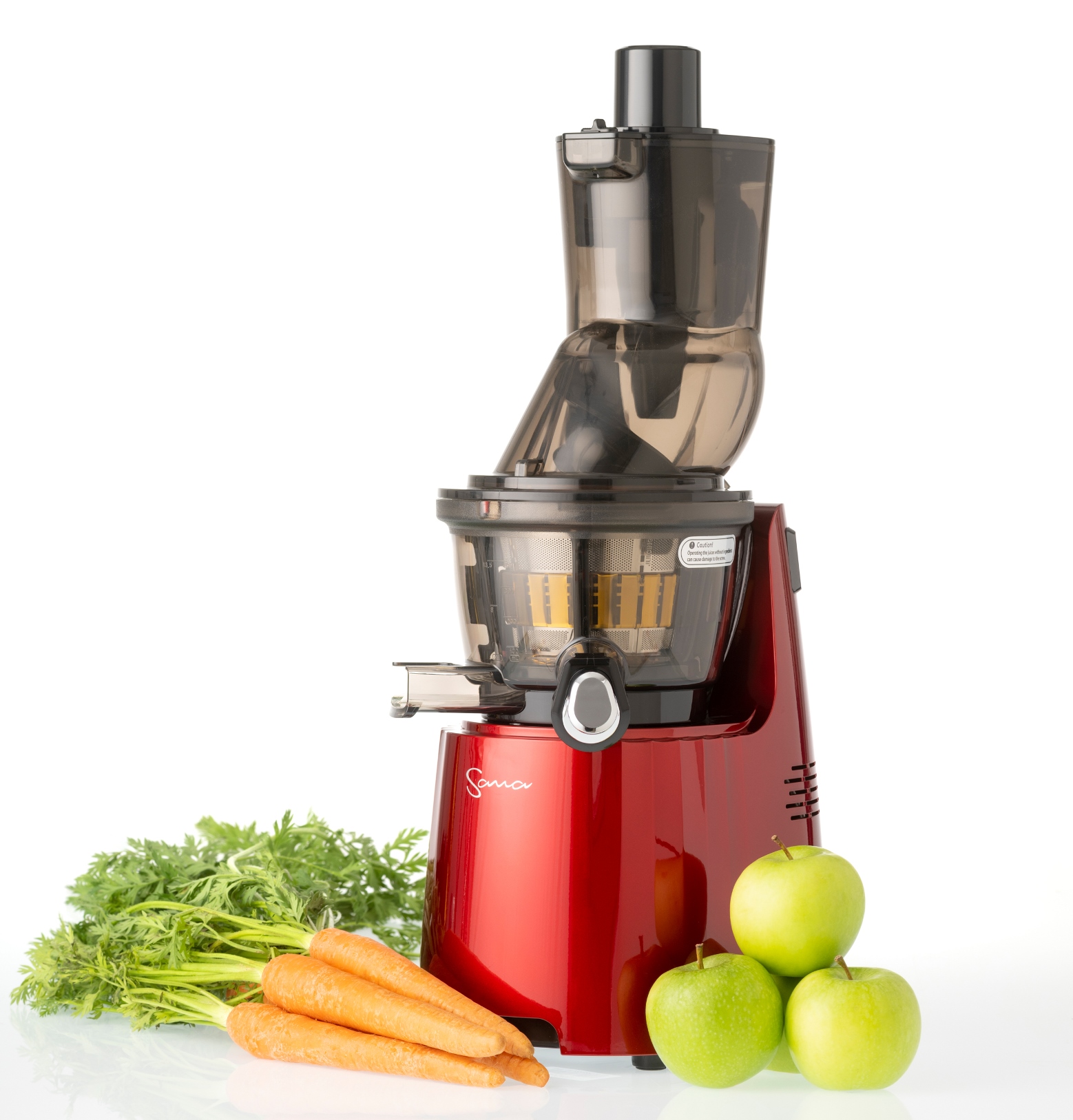 The Sana 868 Cold Press Juicer is more than just a kitchen appliance; it's an investment in your well-being. By incorporating fresh, nutrient-rich juices into your daily routine, you're taking a significant step towards a healthier and more vibrant life. With the Sana 868 in your kitchen, you can indulge in optimal self-care and nourishment every day. As a luxury juicer with premium features and performance, the Sana 868 is designed to meet all your needs as a discerning juicing enthusiast. It includes accessories that are optional extras from competing brands. Its high-quality build, advanced technology, and stunning appearance genuinely place it in a league of its own.
In Conclusion
In a world where health and well-being are treasures that we should nurture, the Sana 868 Juicer emerges as an elite juicing powerhouse. It's your perfect juicing partner, offering an unparalleled healthy lifestyle experience. From its elegant design to its exceptional functionality – we guarantee – every aspect of this juicer is crafted to perfection. Embrace the luxury and elevate your juicing journey today!