What's The Best Juicer For Celery?
This article was updated in March 2023 to include Kuvings new REVO830 Carrot And Celery Juicer  and a few others with celery-specific features. The REVO is without doubt our best premium celery juicer recommendation if you want to skip the long read. (It's potentially our best juicer for all other ingredients too).
Choosing The Best Celery Juicer
How do you arrive at a reasonably objective answer to which juicer is best for juicing celery? Probably the most important factors for most people will be covered in this short list:
Juice yield – how much juice you get from each head of celery
Juice quality – masticating juicers generally give a more nutritious juice
Ease of use – including ease of cleaning
Price – getting the best bang for your buck
Time taken – how much time for how much benefit?
There can't be one definitive answer when all factors are given consideration because of personal priorities but let's try and outline a few things that might help to make the right choice for you.
Is Juicer Type Really Critical?
There are two categories of juicer that are good for juicing celery. Centrifugal Juicers and Masticating Juicers. The masticating type is widely believed to extract a more nutritious juice because of the grinding, chewing and pressing process that they employ. These juicers are often also called 'cold press juicers'. That doesn't mean other juicers produce 'bad' juice,
but if you must have the most nutritionally beneficial juice as your first priority, then go for the masticating type. Centrifugal juicers don't chew or grind ingredients together. They use a sharply toothed high speed grating disc to rip the plant material apart, releasing the liquid contents of the cells to be extracted by centrifugal force. The speed of these machines is a big plus for anyone who wants the juicing done in the minimum amount of time and modern large feed centrifugals will juice large quantities very quickly. That's not to say masticating juicers will seem prohibitively slow for most people. The juicing part may be quicker in a centrifugal but juicing with a masticating juicer will still only take a matter of minutes.
Personal Juicing Preferences
Because we do know that the juice from a Centrifugal Juicer is still highly nutritious, a centrifugal is still a great choice. As well as being fast hey are generally a lower cost option. However, masticating juicers give the best results across a wider range of ingredients (for a small extra commitment of time), as well as producing juice with a longer shelf life due to less oxygen being incorporated into the juice. If you want Juicing to be a healthy lifestyle choice that you are going to sustain, then the small extra investment of time and money in using a Masticating Juicer probably still makes more sense for you. The extra investment in a good quality masticating juicer will also pay you back over time, because they generally also return a bit more juice from your ingredients each time you juice.
Sort The Facts From The Hype
Unfortunately a lot of marketing information is not particularly reliable when it comes to knowing what is fact and what is wishful thinking. At UK Juicers we are not tied to a single brand or product and we are juicing enthusiasts ourselves. We test all our juicers rigorously, so we measure exactly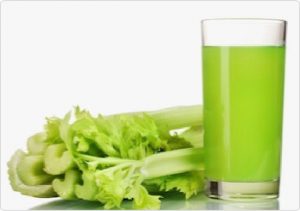 how the performance of different brands and types of juicer stack up against each other. Our satisfaction comes from guiding people to the juicer that is objectively the right choice for their needs.
The Medical Medium has recently teamed up with one of our brands, Omega Juicers, to re-brand an existing model specifically for celery juicing, and to work on a new one with more updated features. The Omega MM900HDS Juicer has an additional adjustable pulp outlet that's optimised for good results when juicing celery making it a great choice. The more recent premium model, the MM1500GY also has the celery pulp outlet but are either of these strictly the very best juicers for celery? No. There are many choices in our range that will give similar or even slightly better results when juicing celery, depending on your priorities.
Centrifugal Juicer Options
Please be aware that anyone who claims that centrifugal juicers 'destroy nutrients' is talking nonsense. This debunked myth emerged from the hyperbole put out by marketers of masticating juicers to differentiate their product by denigrating the original centrifugal juicing method to gain more market share. Masticating juicers do give better results, that is true, but the results from a centrifugal machine are still excellent.
Centrifugal juicers for under £100 are widely available and they provide an OK option, but in our experience they are often poor value for money in the longer term. Cheaper models are typically more wasteful of ingredients and suffer short lifespans, so we don't offer those. There are some excellent models from Sage in our range that we have found perform very well with Celery and we challenge anyone to show us a centrifugal juicer that can do better. They offer a virtually pulp-free juice, which also separates them from the many cheap models that dump more pulp into the juice.
For those on a budget, The Nutri Juicer Cold is without doubt the best juicer we have seen at the price point. So why bother with our premium centrifugal juicer recommendation? The reason we also recommend the Sage Nutri Juicer Cold XL is twofold. Firstly it has a genuinely commercial grade ​motor with a robust die-cast construction and dishwasher safe parts. Secondly the variable speed control makes it a bit more versatile, allowing slightly better results when juicing different ingredients with different hardness and moisture content. Both models give great results with celery and are very easy to live with. For many people there is never any need to think about upgrading from the convenient and familiar format of the centrifugal juicer. Sage Juicers used to be branded as Breville in the UK – a familiar household brand that produces some of the best centrifugal juicers in the world.
Cold Press Masticating Juicer Options
Celery juicing got a big boost in popularity from the activities of Anthony William who is also known as The Medical Medium. He has teamed up with Omega to co-brand a couple of their juicer models. Horizontal masticating juicers are usually all very competent with celery and were previously regarded as the best type of masticating juicer for green vegetables in general. In terms of celery juicing as well as their overall capabilities, we think that the horizontal models from Sana Juicers are generally marginally better than the current Omega range and two models – the 606 and 707 now also have optional celery attachments. The absolute winner in this class? It's not cheap but the Sana 727 is a superb machine and will likely beat any other horizontal juicer with Celery, and with everything else.
However, horizontal masticating juicers will generally take slightly longer overall than vertical models. In recent years vertical cold press juicers have also challenged horizontal models in terms of performance as well as convenience. There are two world leading factories in South Korea producing the best examples and they are all excellent machines but lets stick with celery juicing first and foremost here. 2022 saw the arrival of the Kuvngs REVO830 which is the latest vertical slow masticating juicer from the brand. This has a revolutionary new dual feed chute which sets it apart from all other models, for juicing celery and carrots in particular. It eliminates the problem of long celery fibres with it's new auto-cutting auger. With most other juicers we have previously recommended cutting celery into short pieces before juicing to avoid problems with these 'stringy' fibres in juicing mechanisms. Not with the Kuvings REVO. In fact this redesign of the vertical juicer format is the best juicer for all ingredients in reducing on ingredient preparation and in our tests it is also the winner in terms of overall juice yield across the board. The product video demonstrates this auto-cutting feature better than any words. We have no hesitation in saying that on balance, the Kuvings REVO830 is our best juicer for celery, and probably our best premium juicer overall.