Celebrating 21 Years Of UK Juicers™
A Journey Of Promoting Health Transformation
In September 2002, a small online business embarked on a journey to promote health and well-being through juicing. Little did we know that two decades later we would have evolved into the UK's most trusted independent juicer specialist.
This month we celebrate our 21st Birthday. That's 21 years promoting the juicing lifestyle and offering our customers the very best juicers from around the world. Join us as we take a trip down memory lane and explore our remarkable history.
How It Started:
Paul & Nick, 2002.
The story of Nick's health transformation, as shared here, encapsulates the very essence of the company's original motivation and its enduring commitment to promoting health and well-being through juicing. Nick's journey, filled with personal challenges and ultimate triumph, reflects the core value that has driven our progress for the past 21 years: taking control of your own health.
Nick's story serves as a poignant reminder of the power of juicing. His personal journey from illness and frustration to vitality and well-being highlights the transformative effects of incorporating fresh juices as part of one's wellness routine. The idea of using juicing to combat ill health was first passed on to Nick by his Uncle Paul, during the darkest days of Nick's battle with Ulcerative Colitis. With the help of juicing and other dietary interventions, Nick made a full recovery. Since then, together with the rest of the UK Juicers team, Nick and Paul have enthusiastically pursued the mission of promoting juicing to an ever widening audience.
The Humble Beginnings
UK Juicers was founded at a time when the concept of juicing for health was just beginning to gain momentum. Perfect timing, you might say! Back in 2002, fresh juice enthusiasts had fewer options when choosing a quality juicer, and the idea of shopping for such products online was still in its early development stage. We saw the potential to make a difference in people's lives by offering a wider range of juicing equipment and other health related appliances, so we made our first foray into creating an online store.
In its infancy, the UK Juicers website was a straightforward platform with basic but effective functionality. It was designed to cater to the needs of early members of the juicing revolution, by providing easy access to juicing machines and other products for a healthy lifestyle.
By 2005 we had quickly progressed from holding our stock in a double garage, (thanks, Nick's mum!) to hiring a small industrial unit nearby, and then into our own bespoke warehouse and office building here in Elvington, near the beautiful city of York.
Early 2008 saw the website undergo its first major rebuild. The design became more intuitive, making it easier for customers to find the products they were looking for. As technology advanced over the years, so did the website. With the advent of responsive design, the website became more accessible across various devices, adapting seamlessly to the growing trend of mobile shopping. Our ability to rapidly adapt to changing times has helped us to quickly communicate essential information to our customers through our website, whatever circumstances we encounter.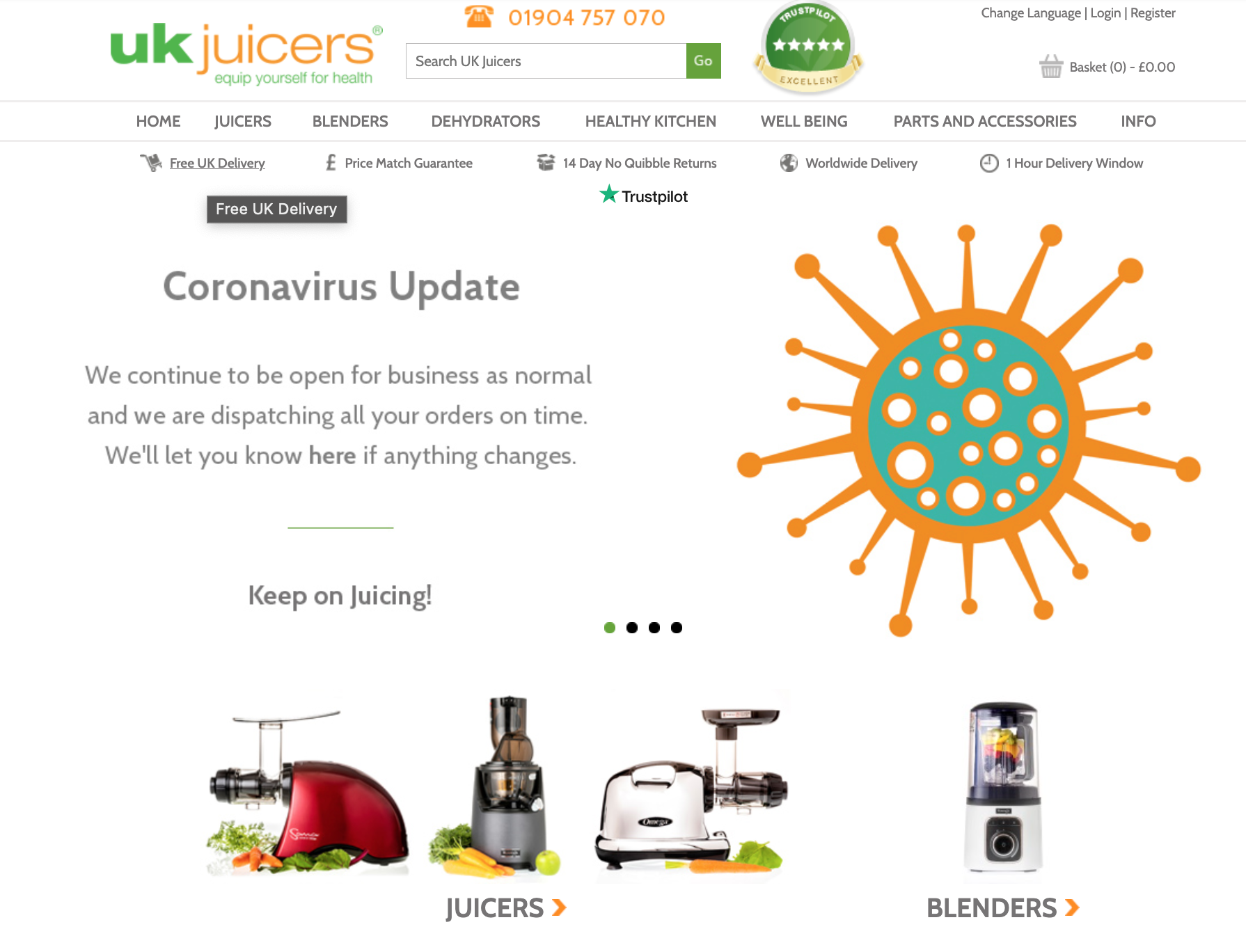 We're now on the 5th generation of our website. We won't rest on our laurels though. Progressing with the times has helped us on our journey of success, and standing still is not part of our vocabulary.
A Real Family Business
It's not 'just a job' for us here at UK Juicers. The long term success generated by our close knit team is founded on our real life family connections. We have Cynthia, Nick's mum, taking care of all our bookkeeping, with the help of her husband Peter, who is our accountant. Paul, who is Nick's uncle and Cynthia's brother, takes care of all our online marketing and SEO, and writes all our website content. Nick directs the operations at our base in Elvington, looking after all our purchasing, attending trade shows and overseeing strategy with Paul. In the office taking your calls we have the lovely Helen, Cynthia's close long term friend, and Joe, who is Paul's son. Helen takes care of a lot of the admin and customer service in the office alongside Joe, and Joe also looks after the warehouse and dispatch operations. We are so humbled by the contribution that our customers have made to our family's livelihoods during the first 21 years. Thank you all, and long may it continue.
Juicing Through the Years
Over the past 21 years, the world of juicing has undergone a remarkable transformation. Early on, juicing was primarily a niche pursuit of hardcore health enthusiasts, with a relatively small population of people seeking to harness the nutritional benefits of freshly made fruit and vegetable juices. The landscape has since evolved greatly. Juicers have now become a staple in many households, appealing to those looking to boost their daily nutrient intake, maintain a healthier lifestyle, or simply enjoy delicious, homemade juices.
Innovations in juicer technology have played a pivotal role in the evolution of our undiminished passion for juicing, and for selling the best juicers. As a company we've also followed emerging dietary trends, offering specialised juicers for wheatgrass, leafy greens, and even commercial juicing needs. This diversity reflects the dynamic nature of the juicing industry, and our commitment to meeting the evolving demands of our customers as the plant based diet movement gains momentum.
We're devoting a separate article to show how much juicer designs have improved since meeting our first love, The Champion Juicer (pictured here). That single product allowed us to get started and it was the first juicer that Nick used in recovering his health. Back in the day, the iconic 'Champion' had enjoyed over 5 decades of success as the leading masticating juicer, before eventually succumbing to its design limitations. Sadly the Champion is no longer available, but other juicer formats have continued to evolve. It's been fascinating to watch and participate in how things progress and we are so grateful to all the customers who have fuelled our success so far.
How It's Going:
As UK Juicers celebrates its 21st anniversary, we stand as a testament to the power of innovation, and to our dedication to promoting health and wellness. The company's journey has been intertwined with the transformation of juicing trends and the evolution of online shopping, reflecting the dynamic nature of the digital age.
We were founded with a mission to empower individuals to take control of their own health and transform their lives through the simple yet profound act of juicing. In the early 2000s, fresh juice was not as ubiquitous as it is today, and many people were unaware of the incredible benefits juicing can offer. The company recognised the need to provide easy access to high-quality juicers and related products that would enable individuals to harness the full potential of fresh fruits and vegetables.
It was a bold move back in 2010 for us to then subject ourselves to the completely independent review platform, Trustpilot, but as early adopters we wanted to be completely transparent in our goal of providing the best customer service in the business, by being held to a standard that customers would be completely free to independently report. We sometimes get a bit emotional reading the lovely things our customers say, as we strive to maintain our long held reputation for excellent customer service.
Today, we hope that we will continue to inspire individuals to embrace juicing as a means to lead healthier lives, all the while adapting ourselves to the ever-changing online retail environment, in our mission to offer the best juicers that money can buy. With a rich history, and our commitment to customer satisfaction, we hope that we are well-positioned to continue providing the service that we have enjoyed offering our customers for the last 21 years.
Happy Birthday To Us!