Kuvings Revo830 In Depth Review
A Comprehensive Look At Kuvings' Best Juicer Yet

When we tested the Kuvings Revo830 against other leading cold press juicers we were surprised that it actually produced more juice under controlled conditions. We had assumed that masticating juicer efficiency was by now reaching its upper limit but we were wrong.
With single auger juicers like the Kuvings Revo830, juice extraction is achieved with a rotating crushing and grinding force against a metal filter screen. The auger or screw breaks the ingredients into ever smaller pieces by drawing the produce further along the screw, until you end up with a paste as it goes through the high pressure pressing stage near the fine end of the filter. It's this grinding and rubbing together of the plant material that releases the cellular nutrients, to give better cold press extraction of a more nutritious juice. As you can imagine, there are large forces involved, so the juicer needs to be tough.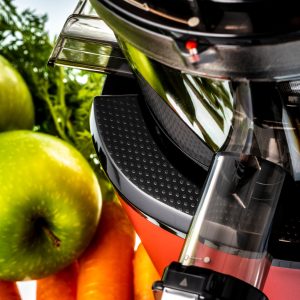 To design a juicer that works like this, there always has to be a compromise between a number of factors to get it just right. The material of the auger and the screen must be strong enough but flexible enough to cope with the crushing forces. The motor needs to have enough torque to drive the produce into the ever decreasing space where the juice is extracted. And the whole thing has to work under extreme pressure inside the guts of it without the juicer destroying itself. No mean feat.
In the past we have had a few juicers where the manufacturer didn't quite get this right, so we ended up doing a lot of warranty support for juicing screens that gave up the ghost when people got too optimistic about juicing large chunks of hard ingredients like beetroot, for example. Other juicers we've tested were simply too puny with the pressing action, leaving a soggy pulp and wasting a lot of ingredients, which is costly. With the Revo830 Kuvings have produced a solid beast of a juicer that can cope with the pressures needed to make it the single most efficient vertical slow juicer we have tested to date (October 2022).
How We Test Juicers
This is a touchy subject for us. We get triggered by some of the tests we see published in videos, where so-called 'experts' are perhaps motivated to favour one juicer over another rather than being as objective as possible. Sometimes what we see looks like obvious misdirection, and other times the manipulation of what we are viewing is too subtle for the untrained eye, so people take it in good faith.
We test under controlled conditions using single ingredients at a time, from the same batch, weighed to the gram. We sieve the juice to make an objective assessment of how much pulp has made it through the juice outlet instead of the pulp outlet. Then we don't just measure the volume of the juice, we weigh it to the gram in order to eliminate any errors that may happen with the calibration of different measuring jugs.
One problem that you may notice is that juicers are sometimes tested using a variety of ingredients all weighed out together in one mixed lot. Even if a mixture of different produce looks to be approximately in proportion, the variation in moisture content of individual ingredients can significantly skew the test results. Has this fact been overlooked by some testers, or is it deliberate? Unless the individual ingredients are all weighed separately, and all from the same uniform batch, such a test is immediately null and void.
Another thing to watch out for is the subtle edit, where the video briefly cuts away during the test. What happened during the gap? If there are speeded up sections in a video, did you miss anything? We've noticed some interesting changes with editing and it would be perhaps a bit too trusting to dismiss them all as innocent.
Something else that we dislike is juicer abuse. If a tester is ignoring the manufacturer's instructions and treating the juicer badly, say by deliberately overloading it with large chunks of tough ingredients, you are not seeing a fair representation of how the juicer works when used properly.
We have seen all of the above in recent video content and we struggle to give full credibility when such things happen. We test fairly and if anyone wants to challenge our results we have a simple response – 'show me'.
Kuvings Revo830 Juice Test Results
Using our strict testing criteria with the same batch of ingredients, in this case a uniform batch of carrots, we tested the Kuvings Revo830 against its three closest rivals in terms of premium slow juicer technology. We sieved the juice in each case, we measured the volume, and then we weighed the juice to confirm. The Revo got 2.9%; 3.5% and 4.1% more juice than it's three closest rivals respectively. This means that over time, the Revo is likely to give you better value for money on juicing ingredients.
If you are looking for very high juice yield – who isn't? – the Kuvings Revo830 is in our opinion the best performing vertical slow juicer yet. But it has more than pure performance as a winning feature…
Dual Feed Chute – Auto-Cutting And Wide Flip Gate
Masticating juicers take a bit longer to produce juice than a high speed centrifugal juicer, but you are rewarded with more nutritious and flavourful juice that will keep for longer. So how else can you cut down total on time taken and make a masticating juicer more convenient, without losing those cold-pressed health benefits?
Firstly The Kuvings Revo830 has a larger auger that will process ingredients quickly, and that's backed up by an extremely powerful high quality motor. Kuvings make and rigorously test their own motors instead of sourcing them from outside, which certainly helps. Enough power and capacity to deal with more ingredients quickly is something the Revo definitely has. One other premium 'Made in Korea' brand was recently found to be using Chinese motors in their products.
Anther factor is how quickly you can feed in the ingredients and this depends both on the time taken to cut them to size, and the size of the feed chute on the juicer. The Revo Addresses this with its new dual feed. On one side there is the flip gate lid that will take whole apples and other fruits, or handfuls of large pieces of ingredients. Even if you do accidentally overload the juicer it will stop automatically, and if you quickly flip the motor into reverse you are up and running again straight away.
The other part of the dual feed is still pretty wide at 43mm and this sits over the all new auto-cutting section of the juicing auger. This means that for long ingredients like carrots and celery there is no need to cut them up first – simply drop them in and the Revo does that for you.
Kuvings market the Revo830 as a carrot and celery juicer but we think that does it a disservice. It's a great performer with all juicing ingredients. But you can see why they mention carrot and celery because the auto-cutting mechanism is great with those. And with the widest feed we've seen at 88mm on the flip gate lid side, total ingredient prep time is the lowest of any vertical slow juicer we've yet tested. Couple that with the more powerful motor and larger auger, and you get your juicing done a little quicker, with no compromise on quality.
Accessories
The optional accessories include a citrus juicer module that quickly gives the Revo830 a more convenient way of juicing citrus fruits without peeling them first – simply press half citrus fruits down on the rotating reamer. It's also a much quicker clean up when juicing citrus fruits this way. The smoothie screen gives a pulpier, smoothie-like juice if you prefer more texture, and the homogenising blank does all the usual pureeing functions like sauces, nut butters and frozen fruit desserts.
Clean Up
This is the part that none of us like. One significant advantage here is the feature that the Revo830 shares with the rest of the Kuvings Whole Slow Juicer range – the wrap around screen brush. Cleaning the filter holes on the juicing screen is a bit of a drag with any cold press juicer but Kuvings provide multiple cleaning brushes to take away some of the pain. A few twists of the screen tool takes care of the donkeywork more conveniently than if you didn't have it. The rest of clean up is pretty similar to most other slow juicers.
Conclusion
The Kuvings Revo830 offers two incremental but genuine improvements that set it apart from other vertical slow juicers. It saves greatly on time that is usually spent prepping ingredients, and it extracts a bit more juice.
It's expensive, but you get what you pay for. With rampant inflation as we get into 2023, we anticipate more price increases on our juicers so it's perhaps a good thing that the less often used accessories are optional, rather than included. The Revo will also eventually pay you back with both reliability and reduced ingredient waste. Then again, if you compare the contribution it can make to a healthy lifestyle to that of a coffee machine, it's not so expensive really.
We wonder what's next around the corner with slow juicer design? For now, although it's a close race, in our opinion the Kuvings Revo830 is ahead by a nose. Buy with confidence.