Kuvings REVO830 Cold Press Juicer – First Look
Join the REVOlution is what's being said about the new Kuvings REVO830 and we have to agree, this new juicer is in another league! The upgrade they've done from previous
juicers has the user entirely in mind. They've made it easier to use, clean and get to grips with. We've been using it for a few weeks now and here's our quick overview:
Functionality
The build quality is superb – it's got a heavy motor base to keep it sturdy and a nice design to it. Because of the weight, which houses a new more powerful motor, you will probably want to find a space in your kitchen and keep it there. From unboxing to using, it's a quick process – the instructions are very clear and you can have it up and running within about 5 minutes.
Features
The remodelled feed chute concept is what makes the REVO tick. It has 2 feed chutes for your fruit and veg – an auto-cut chute and a flip gate chute. The flip gate lid that will take
whole fruit, as featured in earlier models, has now been widened to a huge 88mm – the biggest in the business – so it will take even bigger whole apples. The new REVOlutionary 43mm auto-cut smaller chute is specifically designed so that you can feed whole carrots, sticks of celery and other long ingredients without any preparation.
Auto-Cutting Chute
You can juice whole carrots, celery stalks and long leafy veg in the auto-cut chute and the juicer will chop it for you before it reaches the juicing mechanism. We have put a head of uncut celery sticks through the Kuvings REVO830 and it has juiced it without any trouble. Juicing celery without cutting it first presents a problem to other auger juicers, with the long celery fibres causing jamming and clogging. The REVO does the chopping for you – at 60 cuts per minute – as the ingredients are put in the chute. No more ingredient prep really is a revolutionary step in juicer design. While some other manufacturers are just tinkering, Kuvings have delivered a step change.
Flip Gate Lid Chute
This is for putting whole fruits and vegetables in such as apples without the need to cut them into small chunks first. The juicer will break up the produce before juicing it.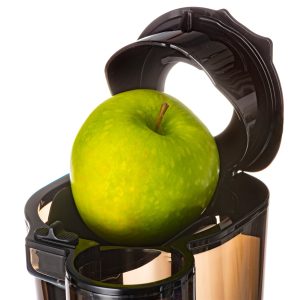 You can't overfeed the Kuvings REVO830 – it naturally controls the rate and because the juicer chops for you, there is effectively no ingredient preparation time.
New Juicing Auger
This is the business end of the juicer – the profiled central screw that draws in ingredients and crushes them. In conjunction with the higher torque motor, the completely redesigned auger in the REVO has the cutting profile added to the top for auto-cutting ingredients, and a higher force profile for squeezing more juice through the screen.
Better Juice
Squeezing and crushing produce at low speed is the most effective way to release maximum nutrients and this cold press juicer extracts a silky pulp free juice. The juice quality from the REVO830 is unbeatable by any other single auger masticating juicer we have tested, and that says a lot.
More Juice
The Kuvings REVO830 needs less produce to make the same yield. Kuvings claim that the extraction rate is up from 75% to 83% on previous models. The new more powerful motor is quieter for use in the day or later into the evening or at night – less risk of disturbing people. Kuvings make their own motors in house, guaranteeing consistently excellent quality. The greater pressing force allows better extraction and in our side by side tests with other premium models in our range, the Kuvings comes out on top. That means less wasted ingredients every time you juice.
Safety And Cleaning
The Kuvings REVO830 is safe for children to use as all mechanical and chopping parts are hidden in the casing. There are auto cut out features to prevent damage and ensure correct assembly. It also comes apart very easily for cleaning and can be washed ready for use in around five minutes. The large pulp outlet with cutaway gives easy access for cleaning and Kuvings include a unique wrap around screen brush that makes screen cleaning easier than other juicers.
Conclusion
It's a belter! These days juicer designs are so advanced that we've doubted whether there were any more genuine big improvements to be found. Many manufacturers are simply changing cosmetic aspects or making changes that have no huge impact on functionality. With the REVO830 Kuvings have made a genuine leap forwards with the elimination of almost all ingredient preparation before you juice. These days there is very little difference to detect between many of the premium juicers available in terms of how much juice they extract either, but Kuvings have somehow managed to improve juice yields too with the complete redesign of the juicing parts and a new motor. You can see what we are talking about in the video below.
The Kuvings REVO830 comes in four colours – matt silver, matt white, red and matt black. Check out our product pages here
UPDATE: We've had chance to get even more familiar with the Revo and tested it against the rest of the best. Read our more in depth Kuvings Revo830 Review here.