Choosing A Grain Mill
How To Get The Right Grain Mill For You
Getting a home grain mill is one of the best decisions you can make, and most people never look back after tasting the difference with freshly home milled flours and cereals. All cereals are at their absolute nutritional best when they're milled straight from the living seed. The info below will guide you to the right size and style of grain mill from our extensive range, so you will soon be enjoying the unrivalled health benefits of the freshest flours and meals.
Form Or Function?… Both
Luckily you get both with all of the great examples of home grain mills in our range.
Form
All the grain mills and grinders in our range are beautifully crafted in small scale artisanal workshops, constructed in natural, sustainably sourced hardwoods so that they look aesthetically satisfying in any setting. We also have some housed in renewable Arboblend bioplastic which uses recycled wood for even more green points. These ultra eco friendly models are also – perhaps surprisingly – extremely attractive objects, if a little less traditional.
Function
It's under the cover of these elegant housings and hoppers that we find the superb standard of manufacturing that we expect from our European cousins in Germany and Austria. The drive motors in the electric grain mills are commercial grade for years of trouble free use. The millstones are made of ultra durable ceramic corundum mineral composite. Any parts that are subject to wear and tear are easily replaced at home and so far (touch sustainably sourced wood) we have never had a grain mill that suffered failure.
We also have a few hand operated models if you prefer a workout with your home flour milling, or for off grid use where there is no mains electricity. These manual grain mills are actually not that strenuous to use, it just takes a little longer to produce flours and meals.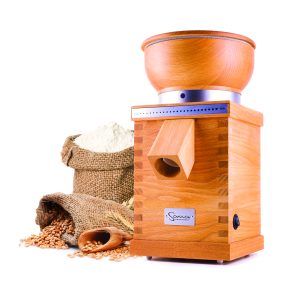 Output
Mill output and capacity is a primary consideration when choosing. Whether your grain mill is going to be used in a small household or a small business will influence the size of mill you choose but a good way to think of this might be how long it takes to mill enough flour for a medium to large sized loaf. If the output of the mill is 100g per minute then maybe it will be around 4-6 minutes and you can work work from that for the time taken by mills of larger or smaller output.
Perhaps another thing to consider with electric grain mill output capacity is what else can you be doing while the hopper full of grain is being milled? You can get your other ingredients together, perhaps mix up some yeast, maybe grease a loaf tin etc. Time is not always the big factor we might think outside of commercial settings.
Ease of Use
This will not be an issue and that's why we mention it. Our home grain mills and flakers are chosen for intuitive ease of use, with simple and straightforward millstone adjustment for different flour grades. They are almost maintenance free and cleanup is a doddle. The millstones are self-cleaning in regular use. Periodic cleaning after the mill has stood for a while, or for freeing the stones from any oily residues is usually done by processing a little rice or grain, which you then discard.
Grain Flakers & Crushers
These are not covered here as there really isn't a lot that goes into choosing one except personal preference. They all use steel rollers to crush and flake cereals for porridge and muesli etc. View them at this link.
If you want a combination electric mill with a flaker there are a few included in the comparison table below.
Grain Mill Comparison Table
(View in landscape on mobile)
Grain Mill

Mill Output (g/min)

Housing Material

Hopper Capacity (g)

Dimensions LxWxH (mm)

Weight (Kg)

Warranty (years)

Price (£)

Waldner Farina




(manual)




35

Larch

450

290x140x160

1.8

5

£179

Waldner Toskana (manual)

40

Beech

650

240x240x380

4.6

5

£289

Komo Magic

100

Beech & Stainless Steel

850

203x163x250

6.2

12

£319

Komo Fibidus Medium

100

Beech

850

213x153x324

7.0

12

£329

Sana Grain Mill

100

Beech

850

170x170x430

8

12

£369/£379

Mockmill 100

100

Arboblend

1100

220x190x380

6.6

6

£229

Mockmill LINO 100

100

Wood, Arboblend

1300

242x208x380

7.8

12 years home; 2 years commercial

£389

Waldner Single

120

Alder

800

160x160x300

7.5

8

£329

Waldner Lady

120

Stone Pine

1000

180x180x320

7.5

8

£369

Waldner Mona

120

Larch or Stone Pine

1000

190x190x320

7.5

8

£455/£479

Waldner Silence

130

Beech

1200

190x190x360

9

8

£389

Waldner Luis




(includes Flaker)

130

Stone Pine

1200

195x310x355

11

8

£749

Waldner Family

170

Stone Pine

1300

250x250x365

9

8

£515

Mockmill 200

200

Arboblend

1100

220x190x380

8

6

£285

Mockmill LINO 200

200

Wood, Arboblend

1300

242x208x380

8.9

12 years home; 2 years commercial

£460

Mockmill Professional 200

200

Wood, HI-MACS

1300

242x208x380

9.4

12 years home; 2 years commercial

£555

Komo Fibidus XL

200

Beech

1200

232x173x367

9

12

£549

Komo Duett 200




(includes Flaker)

200

Beech

1200

232x335x395

17.5

12 (3 years Flaker)

£795