Which Is The Best Spiralizer?

Our Buyers Guide – Choosing The Best Spiralizer For Your Needs
Vegetable Noodles, or spaghetti shapes made from veggies are one of the best health innovations to gain popularity in recent years. If you want to cut down your carb intake or simply get more veg into your diet, swapping the wheat flour dough in your pasta for vegetables instead opens up a world of exciting recipe options. From salads to hot sautéed dishes, the range of flavours and textures you can easily create with a spiralizer will spice up your menu and deliver far greater health benefits than cooked pasta dough ever could. Normal pasta has lots of shapes (and lots of calories) but very little variation in flavour. Vegetable pasta has as many flavours as there are veggies that will fit your spiralizer, it's healthier, and once you try a few recipes you'll be hooked!
Whether you are completely new to the world of spiralizing and getting ready to make your first batch of courgetti, or even if you are simply looking to upgrade your current model, you've come to the right place. Unlike some reports out there in the media, our comparison is not based solely on the models that a journalist could call in (for free) in time for an article deadline. All the spiralizers in our range have been thoroughly tried and tested before being allowed on our website, and over the years we've tested more models than you could shake a courgette at! Whatever your budget, we have a user friendly and effective option for you. Below we run through the features, differences and similarities, to help you choose.
What are YOUR Must Have Spiralizer Features?
There's a lot that's down to personal preference in your ultimate spiralizer choice and there's no single model that would be the best for everyone. There are vertical and horizontal orientations, with or without a container, hand held or worktop based, suction feet or non-suction feet, different thicknesses of cut… the list goes on. One persons 'must have' feature may be completely lost on someone else, so lets break it down a bit.
Horizontal Or Vertical Spiralizing?
This is a choice to be made if you are looking for a worktop standing model, rather than a little hand held peeler gadget. With a horizontal ?model the ingredients are held and processed horizontally using horizontal pressure as the handle is turned. With vertical spiralizers the veg is held vertically and a downwards force is applied with the turning handle. Some people find the vertical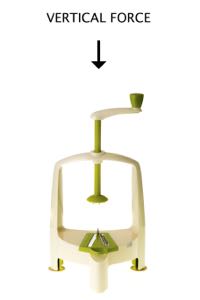 force easier to apply and another possible plus with vertical options is that there is usually no leftover 'core' from the ingredients because they are located on a single spike. Horizontal models do leave a vegetable core of varying thicknesses; this vegetable core is part of the cutting process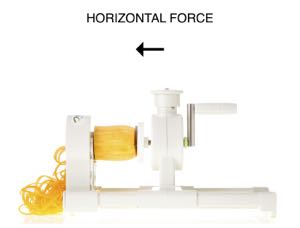 that holds the veg in place as you process it. Some see this as wasteful, others will see the core as a bonus to be quickly sliced into the recipe to add another texture, and some will see it as a free snack for the chef to nibble! It's unlikely that the core would be wasted by most people and the horizontal type has become the most popular choice in spite of the core. However, vertical options are often more compact for storage and many people do find the ease of applying downward pressure helpful.
Does My Spiralizer Need Suction Feet?
In almost all cases suction feet are not strictly necessary. In some cases they can help, but this too is down to personal preference. With vertical spiralizers there is no distinct advantage because with the downward pressure everything tends to stay put. With horizontal versions suction feet can seem like a big advantage, if you've got a smooth surface on which to anchor the spiralizer, but again these are not strictly essential. Firstly, you will be using both hands with most models anyway, so they are fairly stable once you've got to grips with them due to this fact. Secondly, there's a technique we first noticed in Yo! Sushi that makes a horizontal model even more stable than suction feet alone. If you hang the two rear legs of your horizontal spiralizer over the edge of your worktop, and place a chopping board under the blade outlets at the opposite end to catch your noodles, the worktop edge provides perfect resistance via the rear legs when you wind the handle towards the blades.
Our two premium spiralizers by Chiba eliminate the stability issue altogether by removing the need to apply any horizontal force to the winding handle. This is achieved by adding an automatic feed feature. You simply press a lever or knob and then the rotation of the handle engages with a rack and pinion to move the ingredients forward automatically.
How Many Blades?
Different models offer varying numbers and combinations of blades with different thicknesses of cut, with some being fully adjustable. Typically most users will end up using a couple of options for noodles plus spiral slices. For courgette spaghetti you'll need a blade that makes 2.5mm or thicker cuts, because of the soft-fleshed nature of courgettes. All our spiralizers work for courgette spaghetti. Having a fine noodle or Angel Hair blade can be an advantage for harder ingredients like carrot, radish and squash, introducing finer textures to salads, slaws and stir fries. I.5mm or 1mm blades are ideal for angel hair and in terms of blade versatility, the fine cut option is probably the main thing that's missing from some cheaper models. If you want to spiralize curly sweet potato fries, or ordinary curly fries (not quite as healthy!) then a blade with a wider gap of 5mm and above would be needed.
Ease Of Use
Small hand held spiralizers like the Spirelli and even the larger Spiralifix can be a bit fiddly until you get used to them, but they are compact and do a ?decent job generally. If you think you are going to prepare your own veg spaghetti fairly regularly, then a hand held julienne peeler like the Spirelli might be a discouragement, other than for prepping small quantities. With the Spiralfix you can use it on its base as well as in mid air above your recipe, which makes things a lot easier.
Whether vertical or horizontal in orientation, all our worktop spiralizers are a breeze to use and it quickly becomes intuitive to ?produce a batch of your favourite ingredients. These kitchen tools have VERY sharp blades that need care when handling and we recommend cleaning these by hand. Plastic blade surrounds can become warped in the heat of a dishwasher and in any case, a washing up brush is more effective when you need to quickly clear the blade teeth, so we DO NOT recommend putting any part of your spiralizer in the dishwasher.
Spiralizers originally came from the highly artistic world of Japanese food presentation and they've only recently been fully embraced in western kitchens. Our premium Japanese models from Chiba have an interesting ease of use feature that you won't find elsewhere, in the form of an auto-feed lever or knob.
You press the lever to engage the auto feed and then for every turn of the handle a pinion moves the carriage forwards by a fixed distance, giving perfectly even and precisely cut noodles and ribbons. The awesome sharpness of the Japanese Steel blades glides through the toughest ingredients, which along with the auto-feed feature makes the premium options from Chiba the winners when it comes to ease of use.
European brand Lurch also have some great options at more modest prices and the modular blades are very user friendly.
Build Quality
It's no surprise that we give pride of place to Japanese Spiralizers when it comes to resilience, especially in frequent use scenarios. Benriner are very well engineered Japanese made models but the Chiba spiralizers are proper commercial grade kitchen machines that ooze quality, especially when compared directly with European brands. Of course the Japanese made models do come with a significantly higher price tag, but if you can stretch your budget enough they'll also vastly outlive their cheaper Chinese made rivals.
European brand spiralizers are usually made in China and if you are shopping around, there are some pretty poor quality options to watch out for. Any stand spiralizer with feet that retails for £20 or less is probably one of these cheaper Chinese models. In these cases you usually do get what you pay for – including a shorter product life, flimsiness and faults.
Lurch were the first European brand to offer the right blend of quality vs price in a spiralizer and they were ahead of the game when the craze first reached our shores.
Help Me Choose?
Below is our comparison table for our most popular models for those who want to go into a little more depth, but first here are our top recommendations based on our experience of using them:
Best Value Model – The Lurch Spirali is one of ?the most copied and certainly one of the better priced models.
Best Premium Model – We've yet to test anything as superb as the Chiba Professional, with the Chiba Kaiten coming in a close second. For those who want the very best that money can buy, look no further.
Most Popular Model – The versatility of blade options including a fine blade, and the reasonable price point for such quality make the Lurch Grey tough to beat.
Model

Orientation

Fine Blade For Angel Hair?

Suction Feet?

Replacement Blades Available?

Noodle Blade Options

Auto-Feed?
UKJ Rating
Chiba Professional

Horizontal
Y
 Non-Slip
 Y
 1mm, 2.5mm, optional 4mm (all for either noodles or spirals)
 Y
 95%
Chiba Kaiten

 Horizontal
 Y
 Non-Slip
 Y
 1mm, 2.5mm, 4mm (all for either noodles or spirals)
 Y
 95%
Lurch Grey

 Horizontal
 N
 Y
 N
 2mm, 3mm, plus 3mm thick spirals
 N
 90%
Lurch Spirali

 Horizontal
 N
 Y
 N
 3mm, 5mm, plus 3mm thick spirals
 N
 80%
Lurch Spiralo 

 Vertical
 N
 Y
 N
 3mm, 5mm, plus 3mm thick spirals
 N
 75%
Lurch Super

 

Horizontal

 N
 Y
 N
 2mm, 5mm, plus adjustable thickness spiral blade
 N
 85%
Gefu Spirelli 

 Hand Held
 N
 N/A
 N
2mm, 3mm & 5mm flat noodles (no spirals)
 N
 70%
Gefu Spiralifix

 Hand Held/ Vertical
 N
 N/A
 N
 3mm, 6mm, 12mm, plus wide spirals, all adjustable thickness
 N
 85%
Benriner Vertical

Vertical
 Y
 N
 Y
 1mm, 3mm, 5mm, ?plus spirals
 N
 90%
Benriner Horizontal

Horizontal
 Y
 N
 Y
 1mm, 3mm, 5mm, plus spirals
 N
 90%